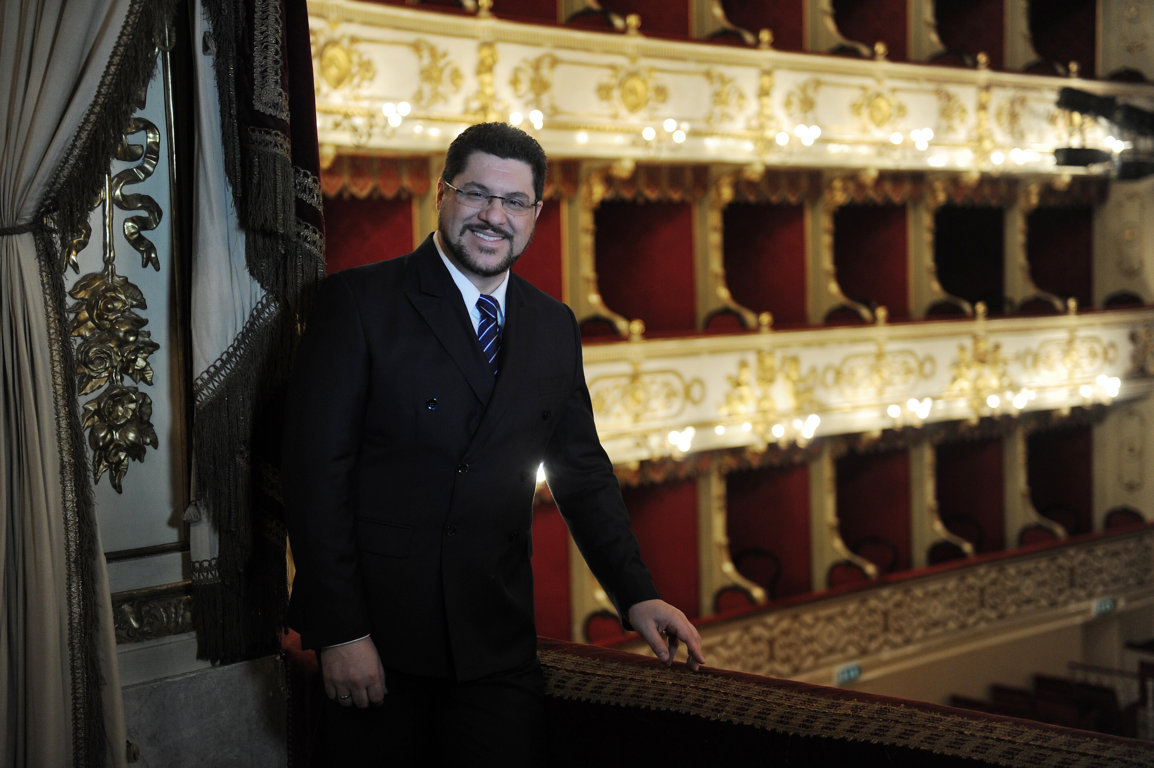 Luca Salsi, "Il templario"
Following his last year personal success singing in Giuseppe Verdi's Ernani, conducted by Riccardo Muti, baritone Luca Salsi is returning to the Salzburg Festival to perform in Il Templario by Otto Nicolai, an opera based on Walter Scott's Ivanhoe. The concert performance is scheduled on 27 and 30 August at the Grosses Festspielhaus in Salzburg. Protagonists on stage, besides Luca Salsi who will be interpreting the role of Briano di Bois-Guilbert, are tenor Juan Diego Florez singing the role of Vilfredo d'Ivanhoe, and mezzo Clémentine Margaine as Rebecca. Andrés Orozco Estrada will be conducting the Wiener Philharmoniker and the Salzburger Bachchor.
"I'm happy to be singing again at the world's most important festival – says Luca Salsi – and to be singing Il Templario, a rarely performed opera that actually had a very successful world premiere in Italy, at the Teatro Regio in Turin, in 1840. It's incredible to see how nineteenth century Italian music influenced the culture of central Europe: a great German musician like Otto Nikolai, an incredibly skilled explorer of melody's expressive potentials, pays a clear tribute to our Belcanto, and to composers like Bellini and Donizetti, whom he deeply admired. Even singing the opera written by a German composer, famous for creating the glorious orchestra of the Wiener Philharmoniker, one can be proud of his Italian culture".
And it's actually the Wiener Philharmoniker who will be playing the opera, as a sort of tribute to Otto Nikolai, the man who founded the orchestra in Vienna in 1842 under the name of "Philharmonic Society". Born in 1810 in Keonigsberg, and trained in Berlin, Nicolai soon became an admirer of coeval Italian opera, assimilating the models provided by Donizetti, Mercadante, and Pacini. His theatrical career intertwined with that of a young Verdi, when Nicolai's success in Turin with Il Templario coincided with a modest reception of Oberto. Verdi and Nicolai later exchanged the librettos of Nabucco and Il Proscritto, with the results we all know.
Following Il Templario, Luca Salsi will be engaged in one of his favourite roles: that of Macbeth, in Verdi's opera by the same title, first at the Gran Teatre del Liceu in Barcelona, in October, and then at the Teatro Massimo in Palermo, in January 2017.