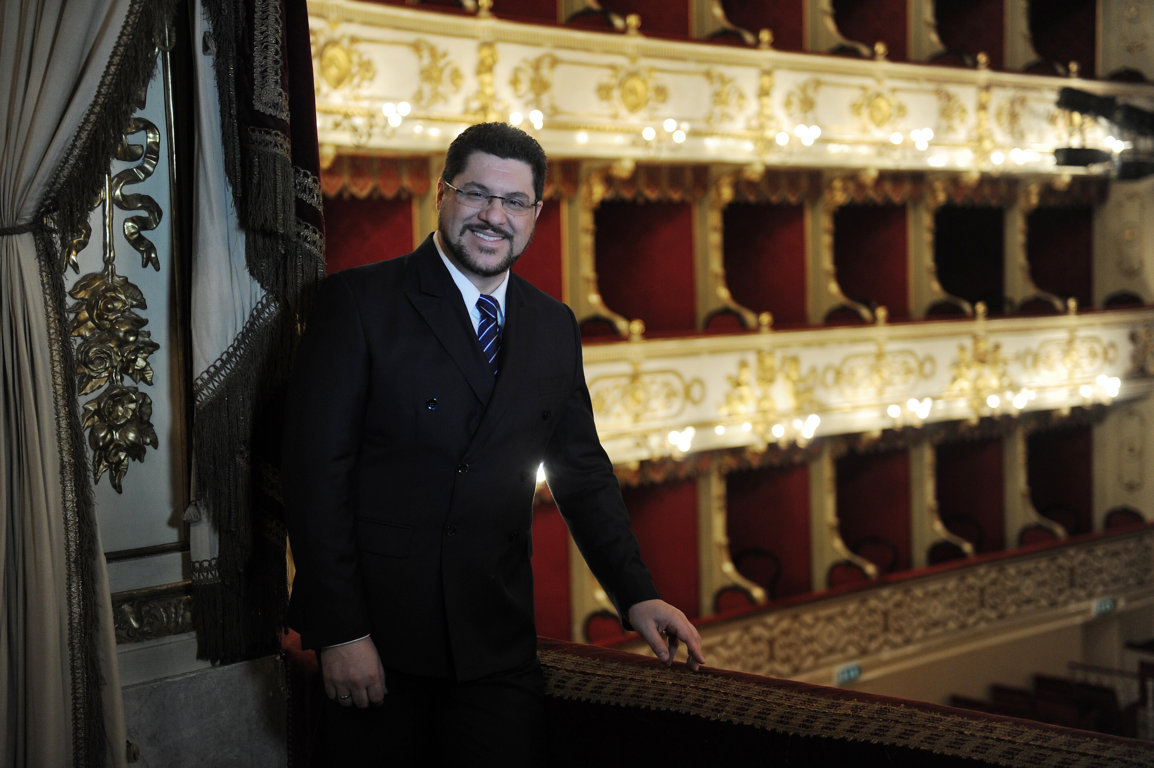 Salsi: "Aida"
For the third consecutive year Italian baritone Luca Salsi is returning to the Salzburg Festival after having sung the Ernani conducted by Riccardo Muti in 2015, and after having interpreted the role of Briano in Otto Nicolai's Il Templario in 2016. He is now to sing the role of Amonasro in Giuseppe Verdi's Aida, beginning 6 August 2017, with Riccardo Muti conducting, and Shirin Neshat directing the new production.
Considered a reference interpreter of Verdi's baritone roles, Salsi was born in the area around Parma, the same as Verdi, and he often works with Riccardo Muti, with whom he has interpreted Macbeth in Chicago and Stockholm, I Due Foscari in Rome, Nabucco in Ravenna, Rome and Tokyo, Ernani in Rome and Salzburg, and Falstaff in Chicago.
He has recently starred in Andrea Chénier in Munich and Paris, next to Jonas Kaufmann and Anja Harteros, and in a new production of Rigoletto directed by Damiano Michieletto in Amsterdam.
"I'm happy to be returning to Salzburg, once again under Maestro Muti, the greatest interpreter of Verdi today. From him I have learned all that I know about this great composer – says Luca Salsi – It's also a pleasure for me to be able to once again interpret the role of Amonasro: one of Verdi's most famous fathers, all too often considered as a tough and authoritarian figure, but actually one of the characters that has been given some of the most beautiful melodies by Verdi. We need only think of the duet with Aida in the third act, where her father, asking Aida for the absolute sacrifice, delivers an extremely beautiful and dramatic musical line, containing in it both a supplication and the tragedy of an entire people".
Some of Luca Salsi's future engagements include: his debut as Scarpia in Tosca at the Teatro dell'Opera in Rome, beginning 14 October; the opening of the new season of La Scala, again as Carlo Gérard in the Andrea Chénier conducted by Riccardo Chailly on 7 December; Poliuto at the Gran Teatre del Liceu in Barcelona on 10 and 13 January 2018, and three operas at New York's Met: Il Trovatore (beginning 6 February), Lucia di Lammermoor (beginning 30 March), and Luisa Miller (on 18 April).
The new Aida – on stage in Salzburg also on 9, 12, 16, 19, 22, and 25 August – is produced by famous Iranian artist Shirin Nashat, making her debut as an opera director. Next to Salsi are Anna Netrebko in the title role, Francesco Meli as Radamès, Ekaterina Semenchuck as Amneris, Roberto Tagliavini playing the role of the King of Egypt, and Dmitry Belosselskiy interpreting the role of Ramfis.
Info > Festival di Salisburgo